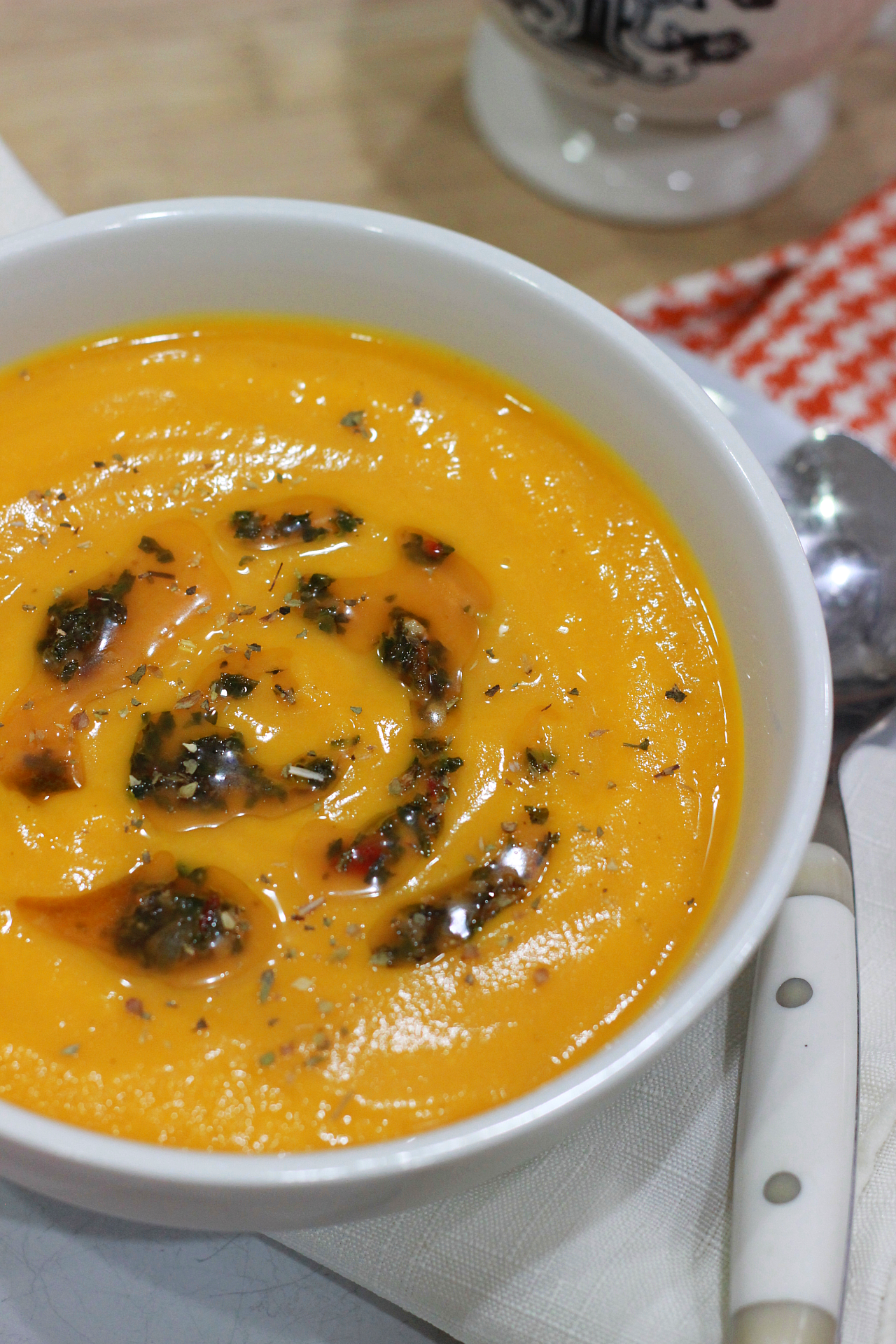 Renata's Roasted Fall Vegetable Soup
Renata's Healthy and delicious roasted fall vegetable soup perfect for Autumn 🍂 
Renata is an intuitive nutrition coach, global speaker, author, wife and a mom of 3 beautiful kids. Her mission is to empower women to nourish their bodies by understanding foods that work best for them, how these foods impact their energy, and redefining their relationship with food and their bodies. She loves creating good-for-you recipes that taste amazing, that honors your body's energy and supports your health transformation.
An easy and delicious way to enjoy all the Fall veggies! This Roasted Fall Veggie Soup is a comforting and healthy lunch for these cooler days!
3 cups butternut squash, (diced)
3 carrots, (chopped into 2" sized pieces)
3 yellow squash, (chopped into 2" rounds)
1 tbsp olive oil
2 tsp salt
1 tsp black pepper
6 cups vegetable stock
4 tbsp basil pesto
Preheat the oven to 425 deg F (220 deg C).
On a large baking sheet, place the butternut squash, carrots and yellow squash pieces.
Drizzle over the olive oil, salt and pepper, then toss together to coat all the ingredients.
Roast in a preheated oven for approx 15-20 mins, or till the vegetables are tender and the edges of the pieces are caramelized.
Transfer the roasted vegetables carefully to a high speed blender or food processor. Pour in the vegetable stock.
Carefully blend the veggies and stock together till super smooth and creamy. With hot liquids, be very very careful and remove the middle insert from the lid of the blender but cover that opening with a folded kitchen towel. This allows some of the steam to escape during blending. Also, be careful not to over fill the blender. You can purée the soup in batches.
To serve, pour the hot soup into a bowl and garnish with 1 tbsp of pesto drizzled on top.
See here for more incredible recipes, nutritional information or even book your 1:1 for a personalised nutrition plan: